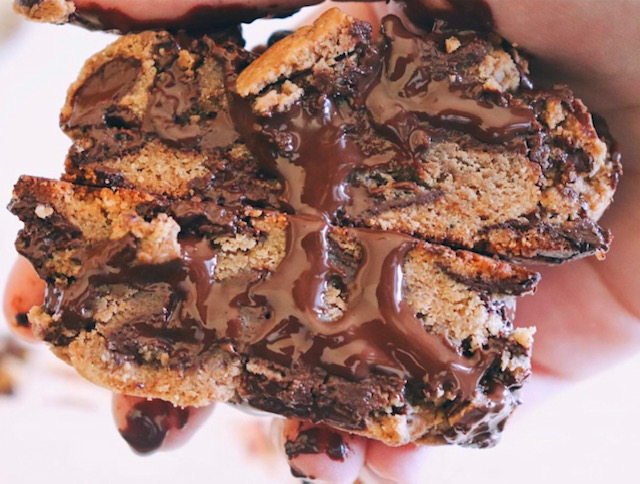 February 03, 2019
Chloe's Cookies Are Just What They Should Be
A new Fort Myers company is the result of the owner's quest to make the ooiest gooiest chocolate chips.
BY DOROTHEA HUNTER SÖNNE, GULFSHORE LIFE
For Ken and Sheryl Weiner and their adorable rescue dog Chloe, they feel there's no better way to show love than through chocolate.
We'd have to agree—and we're going gaga and have fallen head over heels for the cookies they're baking fresh and delivering locally in the Fort Myers and Naples area.
Ken, the baker in the pair ("in this and in life, Sheryl handles everything else," he admiringly jokes), was inspired to put on his oven mitts after eating his way around New York City while visiting their two sons who live there. Chocolate chip after chocolate chip, he kept thinking, "I can do better than that!" And with that, Chloe's Cookies was born.
Each ooey-gooey masterpiece clocks in at 4 ounces, and they're best shared Lady and the Tramp-style with the copious melted chocolate dripping from each half.
Ken has gotten creative with his roster of flavors. There are the fab five, which will always be on the menu—the original chocolate chip, double chocolate chip sea salt, a gluten-free chocolate chip oatmeal caramel sea salt, chocolate chip peanut butter, and chocolate chip walnut ganache. Depending on the season, he'll rotate others in, like chocolate chip espresso, chocolate chip raspberry (what's du jour), chocolate chip peppermint and chocolate chip maple. He's also constantly spinning his creative wheels, just adding a recipe for chocolate chip PBJ and now working on chocolate chip coconut ("I've been through countless recipes, but I need to get the taste just right," he says).
Orders can be placed on the phone, via email or on the website. For a $5 delivery fee, someone from the company will hand-deliver the cookies anywhere in the two-metro area (talking about showing their customers love), and they're hoping to roll out shipping soon.

To place an order Chloe's Cookies ● 239.206.1030 ●chloe@chloescookies.com ●chloescookies.com